Ocean Yachts Sales and Service • Transport • Financing • Insurance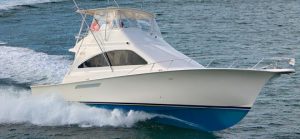 Your source for used Ocean Yachts for sale! Find the perfect Ocean Yachts Super Sport, Convertible, Express or Odyssey model for your west coast boating lifestyle at Ballast Point Yachts, Inc. We have been representing Ocean Yachts buyers and sellers in the USA, Canada, Mexico and overseas for almost two decades offering a convenient, full-service program for sales, service, financing, insurance, transportation, training and more. Our familiarity of today's used Ocean Yachts inventory, as well as its construction, performance, mechanical and electrical systems will minimize risk and save you time and money. We will manage every aspect of the purchase and/or sale process to insure a low risk, stress-free, convenient experience. Bet of all there is no fee for helping you find and purchase your Ocean Yacht making our expertise free to buyers. Call Ballast Point Yachts to find the perfect Ocean Yachts model today!
Call or Click to speak to an Ocean Yachts Consultant (619) 222-3620 x 1 or Email Us
What's My Ocean Yacht Worth?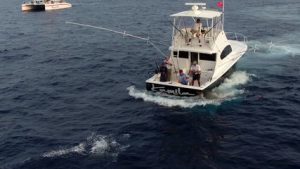 If you have decided to sell your Ocean Yacht, the first step is determining the current market value of your boat. Ballast Point Yachts, Inc. offers a free market value assessment based on the year, model, condition and market demand for your Ocean. We will reference our private MLS sources to identify competing inventory, recent sales and market trends to give you a comprehensive market overview. In addition to our market value assessment, we can provide service/repair tips and recommendations that will help support your yacht's resale value. Get your free Market Value Assessment now! Request
Thinking of Selling Your Ocean Yacht?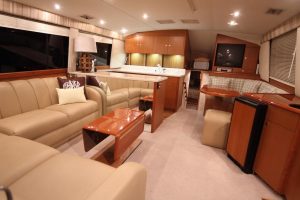 Ballast Point Yachts, Inc. takes pride in the representation of our premium brand inventory. Our sales staff supports each listing with an aggressive marketing plan, product knowledge and almost two decades of experience in the yacht brokerage industry. As one of the top performing brokerage firms in the nation, we know what it takes to successfully sell Ocean Yachts.
Our vast media exposure allows us to generate more leads, attain higher resale values and sell more boats in shorter time periods. We have maintained a concentrated focus on the most popular west coast brands accumulating prospective buyers across the nation and the world. Unlike the average boat dealer, we do not have the distraction or pressure of selling new boat inventory allowing us to concentrate our efforts on our first priority – selling used Ocean Yachts.
Here are more reasons to use Ballast Point Yachts, Inc. when selling your Ocean Yacht:
We set the standard for honesty and integrity
We offer personalized, concierge service and support.
We make selling a Ocean Yacht fast & easy.
We are a convenient, one-stop-shop offering Ocean Yacht sales, financing, insurance, title, transport and service through our San Diego location.
We minimize risk as a result of our superior Ocean Yacht product knowledge.
Our ability to understand client expectations and communicate sets us apart from our competition. Clients across the nation and around the world have trusted us with facilitating their yacht buying and selling earning us an unquestioned reputation.
Call or Click to speak to an Ocean Yachts Consultant (619) 222-3620 x 1 or Email Us
The History of Ocean Yachts
Back in 1977, Jack Leek launched Ocean Yachts with the company's first model – a 40′ sportfisherman. But Jack Leek was not the first of his family to build boats. In fact, Leeks have been building boats in the historic Mullica River since 1721. Ocean Yacht's heritage reaches as far back as the original American colonies. Leek family built vessels helped develop our coastal and river trade, created a local fishing industry, battled pirates, intercept rum runners during Prohibition days and German U boats in World War II. Leek family's involvement in the American maritime industry is as old as the industry itself. Today's Ocean Yacht's look and performance have little in common with those early Leek vessels. But they express the same determination to produce the highest quality yachts in the world.
Their family's passion for boat building has made Ocean Yachts the world's largest producer of quality-built Super Sports, Convertibles, Express and Odyssey models in the 35′ to 73′ range. Their yachts are valued by thousands of owners – running in all the world's greatest oceans due to the unbeatable combination of performance, speed, décor and durability. The models appeal to serious sportfishermen and devoted pleasure cruisers, alike.
Ocean Yachts Boat Review – The Ocean 48 Super Sport
With more than 400 hulls of the very popular Ocean 48 Super Sport built, it is easy to understand why after getting aboard one. The 48 Super Sport model is high on the leader board of the success stories produced at the Ocean yacht factory over three-plus decades. Her popularity and appeal is a result of sleek looks—both inside and out—and exceptional performance.
The 48 offers a two or three stateroom layout with greater interior volume than the 46. The 48-footer had a custom-boat look and lots of teak adding to the appeal for the hardcore fisherman. The families in particular, approved of the interior.
The 48 Super Sport got a makeover in 1993 adding a more refined look to the house, newly designed windows, and a proper half tower. It continued to be powered by 485 HP GM 6-71 diesels. Performance with this package produced a mid-20-knot cruise with a 30-knot top end. In 1995 the 48SS changed from the keel up with a new hull design and a more aggressive deadrise. Larger power options were also offered including 680-horsepower MANs, which produced a cruising speed of 28 knots. A wider beam also meant an increase in interior volume.
The Ocean 48 Super Sport Galley and interior is the money maker. Early on, the builder realized buying a boat is a partnership between spouses. The offshore sportsman could deal with an unornamented interior, but it wasn't going to fly with the family or cruisers. A large L-shaped settee accommodated all aboard, galley is U-shaped and up with sufficient counter space for entertaining, and a separate wet bar is to starboard when entering the saloon. A four-seat dinette is forward of the wet bar, an entertainment system faces aft above the dinette. Due to the immense salon, the staterooms are on the cozy side. Deck hatches welcome daylight into the spaces. The heads and two showers are appropriately sized for a 48-footer.
Underway, the 48 rides like most Oceans. The minimal deadrise design at the transom pops the Super Sport out of the hole with ease. Once at cruise it's as efficient as they come. Call Ballast Point Yachts for more details and a list of today's Ocean Yachts inventory.
Call or Click to speak to an Ocean Yachts Consultant (619) 222-3620 x 1 or Email Us
---
Disclaimer
"Ballast Point Yachts, Inc. offers the details of these Ocean Yachts in good faith, but are not guaranteed. No warranty is expressed or implied on any vessel listed here. A buyer should instruct his agents, or his surveyors, to investigate such details as the buyer desires validated. This vessel is offered subject to prior sale, price change, or withdrawal without notice. This listing is shared as a courtesy and may be centrally listed with another broker and is not intended to convey representation of any particular vessel."