Boat Maintenance Service in San Diego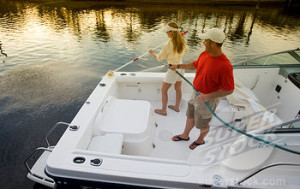 Here are some basic boat maintenance tips for the proper care of your boat. We can assist in every aspect of your yacht maintenance and are always available for your questions. We can teach you the best practices for responsible boat maintenance and care. Not only will proper boat maintenance extend the life of your boat and reduce the need for costly repairs, but it also helps ensure boating safety for all those aboard. Something to keep in mind when considering the cost of boat maintenance; you pay as you go and enjoy a clean, reliable boat, or you pay all at the end and live with breakdowns and frustration.
Boat Cleaning & Finish Care.
One of the keys to boat maintenance is also one of the simplest- wash your boat regularly. Routine compound and waxing and use of anti-fouling paint can also help protect your boat from the elements. Washes should occur every other week, compound and waxes every six months, Varnish every 4-6 months, bottom cleaning every 3-4 weeks depending on the water conditions. Call us for a complete maintenance schedule for your boat.
Checklists Are Your Friend.
There are a myriad of finer points to keep in mind when it comes to boat maintenance. The best way to ensure that you have all the bases covered is to follow a professional checklist. Call us for tips on putting a checklist for your boat that include everything from mechanical and plumbing maintenance and cosmetics and electrical.
Boat Battery Care.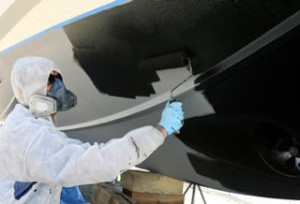 Depending on the type of battery your boat uses, check to ensure properly charging and correct fluid levels. Also be sure to keep your battery clean, as dampness and dirt can also drain your battery.
Routine Boat Inspection
Proper boat maintenance means being actively involved in and attuned to, all aspects of your vessel. If you don't have the time or interest, just call us, and we will arrange to have it done for you. We have a wide range of marine contractors available to support your maintenance routine.
Boat Pumps.
Another crucial aspect of boat maintenance is ensuring that your bilge, raw water, and sump pumps are functioning properly. There's much that can cause more irreparable damage to a boat that having it sink. In the event that you need to use your pump, you'll also want to make sure that your battery system contains enough power to support running the pump for a prolonged period of time.
Boat Electrical Components
Most accessory failures occur as a result of corroded wires so keeping electrical components dry and clean will minimize problems. Electrical connections can be protected with a water-repellent, non-conductive grease or corrosion inhibitor.
Canvas Boat Covers.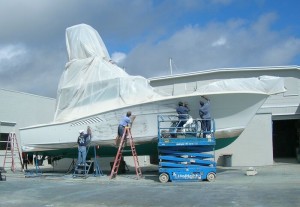 Making an investment in a boat covers is one of the best things an owner can do to help keep your boat clean and free of sun damage and harmful elements in the environment. Preventing UV rays from getting to your boat will slow the fading of carpets and upholstery and the breaking down of rubber and plastic parts.
Stay in the Know.
Last but not least, responsible boat care means taking the time to familiarize yourself with all aspects of boat maintenance. If you're new to boating or just want some assurance, let us consult you on getting the right support including boat handling instruction, navigation, safety, maintenance and anything you need to enhance your boating lifestyle.
Ballast Point Yachts, Inc. offers a yacht management service to meet any level of care you may want. From monthly checks to full-service care, we can manage your entire boat maintenance program.
Call to Speak to a Yacht or Boat Maintenance Consultant: (619) 222-3620 x 1 • or Contact Us by Email