Riviera Yachts are distinctly different for all the right reasons. Styling and amenities make these some of the most attractive and well-appointed craft on the water. Engineering and construction innovations maximize performance, handling and all-around durability. Riviera manufactures the world's most livable sportfishing yachts available and aboard a Riviera Sportfisher you'll discover boating is not only different, it's better.
For almost two decades, Ballast Point Yachts, Inc. has been helping people buy used Riviera Yachts in San Diego, Newport Beach, Long Beach and throughout California, Mexico and Canada, all from our San Diego office. We are your one-stop source for buying, selling, transporting and servicing used Riviera Yachts. Our Riviera boat buying service is designed to minimize all the hassle while we protect your interests. We will expedite the search, inspection, titling, insurance and transport of the Riviera Yachts model of your choice. Best of all, whether shopping for a ?33' Flybridge Sportfisher or a 63' Enclosed Flybridge Convertible model, our buying services and expertise are free to Riviera boat buyers.
Why Buy a Riviera Yachts?
Riviera operates one of the most state-of-the-art boat building facilities in the world. Riviera builds both Open and Enclosed Flybridge boats, Sport boats, the now two totally new series named the SUV and the Belize Motor Yacht collection. Only the finest materials and proven technologies are used to build a Riviera brand yacht. With vessels ranging 33' to 63' in length, Riviera Yachts sets the standard in its class for cruising comfort, maneuverability, volumous living quarters and superior cruising comfort and amenities. Every Riviera model reflects a deep understanding of sportfishman and their unique needs – thanks to a team of designers who are also experienced boaters. Recognized as one of the finest builders of convertible flybridge sportfishers, Riviera Yachts are designed to deliver superior comfort with spacious open living areas and all the upgraded features and amenities perfect for cruising the San Diego and Newport Beach coastlines and beyond.
Need to Sell a Riviera Sportfisher? Use the Riviera Yacht Experts.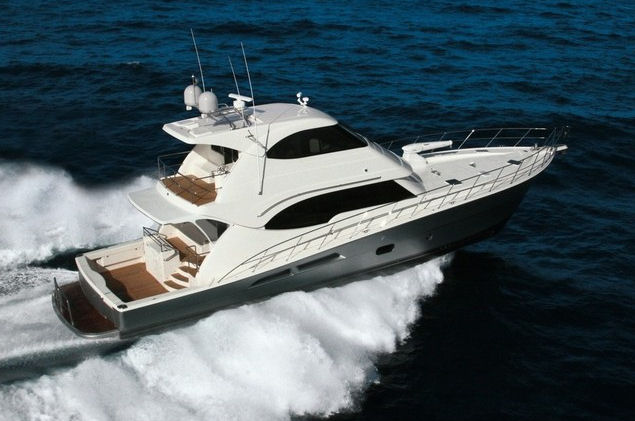 When it comes time to sell, your Riviera deserves the best. As one of the top performing yacht brokerage firms , we know what it takes to successfully sell a used Riviera Yachts. Our San Diego office has maintained a concentrated focus on the larger Riviera models including ?33' to 63' convertible sportfishers models resulting in an accumulation of prospective buyers across the State and around the world. We have an aggressive marketing program consisting of Internet, MLS, print media, boat shows, direct mail and yacht broker networking. We have a global presence including the USA, Europe, Latin America, Asia and Australia. This approach has enabled us to generate quality leads, higher resale values, and to sell our Riviera sportfisher inventory in shorter time periods. And because we don't have the distraction or pressure of selling new boat inventory, we can concentrate our efforts on our first priority – selling used Riviera Yachts. Contact Ballast Point Yachts, Inc. today and enjoy a hassle free sale of your Riviera sportfisher.
Call to Speak to a Riviera Yachts Consultant (619) 222-3620 x 1 or Email Us
What's My Used Riviera Yacht Worth?
If you have decided to sell your used Riviera boat, the first step is determining the current market value of your boat. Ballast Point Yachts, Inc. offers a free market value assessment based on the year, model, condition and market demand for your used Riviera model. We will reference our private MLS sources to identify competing inventory, recent sales and market trends to give you a comprehensive market overview. In addition to our market value assessment, we can provide service/repair tips and recommendations that will help support the resale value of your used Riviera sportfisher. Request a free market value assessment for your used Riviera.
The Most Popular Riviera Yachts Models:
37' Riviera Yachts Sportfisher – Used Boats. While many flybridge boats less than 40 feet in length are best-suited to short weekend stays, Riviera's 37 flybridge has redefined the class by providing the comfortable accommodations and extra features you need for extended cruising.
40' Riviera Yachts Sportfisher – Used Boats. Knowing that some sportfishers look like an afterthought, Riviera designed its 40 flybridge to bring the styling and performance of a sports car without losing any practical features. This attractive yacht's sleek profile conceals a wide-open salon with warm teak-wood interior, premium finish and homelike seating arrangements.
43' Riviera Convertible Sportfisher – Used Boats. This exciting model incorporates great function and style within a supremely comfortable, sea-kindly hull. The most striking aspect about this model is its design approach – a thoroughly modern methodology that will progress flybridge boat design into a new generation of boating enjoyment..
47' Riviera Yachts Sportfisher – Used Boats. The 47' Convertible's attractive design succeeds at every level. To start, she offers superior cruisability for a family while providing the extra measure of privacy that owners crave. Her guest staterooms are located forward with a separate head facilities, while the volumous master stateroom with its en-suite head and shower is forward.
51' Riviera Yachts Convertible – Used Boats. The Riviera 51' represents leadership and innovation in the sportfisher market. Establishing a new leading edge in naval architecture, propulsion and live-aboard comfort, the 51' Riviera Convertible more than succeeds at the core principles that define the fleet's legacy.
Call to Speak to a Riviera Yachts Consultant (619) 222-3620 x 1 or Email Us
Ballast Point Yachts, Inc. is San Diego's premier yacht brokerage and your source for used Riviera boats. We are a full service yacht brokerage located near Shelter Island, in the heart of San Diego's boating industry. If you are looking to buy or sell a Riviera boat in San Diego or anywhere on the west coast, we are your one-stop shop. We have a huge inventory of Riviera sportfishers, convertibles and express boats for sale. We also offer a wide variety of services including boat loans / financing, marine insurance, boat transport and shipping, boat registration, boat repair and much more. We offer boat sales and service in San Diego, Newport Beach, Huntington Beach, Long Beach, Dana Point and many other west coast locations.
---
Disclaimer
"Ballast Point Yachts, Inc. offers the details of these Riviera Yachts in good faith, but are not guaranteed. No warranty is expressed or implied on any vessel listed here. A buyer should instruct his agents, or his surveyors, to investigate such details as the buyer desires validated. This vessel is offered subject to prior sale, price change, or withdrawal without notice. This listing is shared as a courtesy and may be centrally listed with another broker and is not intended to convey representation of any particular vessel."