Offshore Yacht Sales • Service • Transport • Financing • Insurance
Your source for Offshore yacht sales including Pilothouse, Yacht Fisher/Sedan, Flushdeck, Voyager and Motor Yacht models available through Ballast Point Yachts, Inc. Ballast Point Yachts, Inc. specializes in used Offshore yachts and presently offers the best selection of used boats on the market. Find the perfect Offshore model for your west coast cruising lifestyle. Serving San Diego, Oceanside, Dana Point, Newport Beach, Long Beach, Santa Barbara, California, Canada and Mexico.
Explore Offshore Yachts for sale. Ballast Point Yachts, Inc. is your one-stop source for locating, buying and delivering your next Offshore yacht. Contact us for more details on today's inventory of the Offshore models listed below.
Considering Selling Your Offshore Yacht?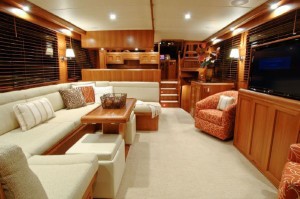 Ballast Point Yachts, Inc. takes pride in the representation of our premium brand inventory. Our sales staff supports each listing with an aggressive marketing plan, product knowledge and almost two decades of experience in the yacht brokerage industry.
As one of the top performing brokerage firms in the nation, we know what it takes to successfully sell a used Offshore yachts. We are one of the nation's top performing yacht brokerages.
Our vast media exposure allows us to generate more leads, attain higher resale values and sell more boats in shorter time periods. We have maintained a concentrated focus on the most popular west coast brands accumulating prospective buyers across the nation and the world. Unlike the average boat dealer, we do not have the distraction or pressure of selling new Offshore inventory allowing us to concentrate our efforts on our first priority – selling used Offshore yachts.
Here are more reasons to use Ballast Point Yachts, Inc. when selling your boat:
We set the standard for honesty and integrity
We offer personalized, concierge service and support.
We make selling a Offshore Yacht fast & easy.
We are a convenient, one-stop-shop offering Offshore Yacht sales, financing, insurance, title, transport and service through our San Diego location.
We minimize risk as a result of our superior Offshore Yacht product knowledge.
We are committed to the highest level of customer service. Our ability to understand client expectations and communicate sets us apart from our competition. Clients across the nation and around the world have trusted us with facilitating their yacht buying and selling earning us an unquestioned reputation.
Call to Speak to a Offshore Yachts Sales Consultant (619) 222-3620 x 1 or Email Us
Offshore Yachts – Quality is in the Details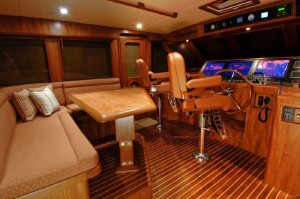 Offshore yachts are built using the latest technology in band-laminated and uni- and bi-directional materials. Core cells above the waterline, vacuum bagging, and vinylester laminates ensure maximum osmosis protection. Four full-length stringers and multiple athwartship frames are laminated and bonded for incredible strength and stiffness. Massive, welded, stainless engine beds provide great strength with minimal vibration. An amazingly strong hull-to-deck joint combines with a structural, upper rub-rail to give the Offshore unparalleled strength where it is needed. Whenever you head out to sea, you have the confidence that comes from knowing your Offshore is built the way it should be.
All Offshores feature a wealth of carefully considered details. For example, covered walk-around decks provide maximum safety and comfort. Window frames, doors, and hatches made of gel-coated fiberglass never corrode or rot. Other details are less obvious. For instance, the boat deck is internally drained to the waterline, keeping the lower decks free of run-off. Safety is enhanced by the provision of two exits from each area of the boat. Detail after detail shows the meticulous care taken in the design and construction of the Offshore yacht.
Offshore hulls feature a generous beam and finely-veed, deep forefoot tapering to a 12-degree deadrise at the transom. This design produces a hull that is quick to get on plane and knifes cleanly through waves and chop throughout the speed range. A long shallow keel, low center of gravity, and substantial displacement result in a gentle easy motion with excellent directional stability and boat handling characteristics in virtually any sea condition. These are design features insisted upon by experienced yachts people.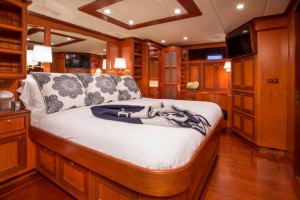 The goal of every Offshore hull design has been to achieve the ultimate in sea kindliness. Anyone who has experienced an Offshore in rough sea conditions will attest to Offshore's truly remarkable comfort, thus confirming the complete success of our goal of "ultimate sea kindliness".
Offshore utilizes the best frp materials available including solid hand laminated "Knytex" bi & uni-directional fabric and vinylester resins below the waterline. This provides greater strength and reduced weight over conventional woven roving / mat construction. Above the water line closed cell "Core Cell" material is vacuum bagged to the same bi and uni-directional fabric using isothalic and vinylester resins. "Rock solid" and "small ship", are terms we hear from our owners attesting to the substantial feel of our boats that comes as a result of our construction.
All Offshores are hand laminated by experienced and skilled workers to ABS specifications. Below the waterline Offshore's solid hand laminate achieves maximum strength and maximum osmosis protection while providing the best compression strength for the installation of running gear, "V" struts, stabilizers and all through the hull bottom fittings.
Above the waterline vacuum bagging assures the best saturation and adhesion of our "Core Cell" sandwich material and eliminates excessive resin. "Core Cell" is a closed cell foam polymer based foam rather than the PVC based foams often used by other builders. "Core Cell" will not absorb water and combines stiffness and impact strength with excellent resistance to heat distortion
The use of the best materials and the latest techniques requires the highest degree of workmanship to achieve the quality that Offshore demands. In addition to being thoroughly experienced and highly skilled, our fiberglass technicians are extremely responsible and diligent in their work. They attain and maintain the highest standards by continually monitoring humidity, temperature, environment, resin content and the proper function of equipment.
Lift their exterior hatches and open exterior doors and see how many builders go to the trouble to finish the interior of these pieces with smooth gel coated surfaces.
Details do make a difference, both as an indicator of quality and as an indicator of potential resale value – and we do have a reputation for quality and very high resale value. The closer you look at an Offshore the more you'll appreciate Offshore's quality and scrupulous attention to detail.
Call to Speak to a Offshore Yachts Sales Consultant (619) 222-3620 x 1 or Email Us
The boats listed here may be subject to an Exclusive Listing Agreement with another brokerage and not by Ballast Point Yachts, Inc. and are provided in an effort to represent you as a buyers in the purchase of a vessel.
---
Disclaimer
"Ballast Point Yachts, Inc. offers the details of these Offshore Yachts in good faith, but are not guaranteed. No warranty is expressed or implied on any vessel listed here. A buyer should instruct his agents, or his surveyors, to investigate such details as the buyer desires validated. This vessel is offered subject to prior sale, price change, or withdrawal without notice. This listing is shared as a courtesy and may be centrally listed with another broker and is not intended to convey representation of any particular vessel."