Azimut Yacht Sales & Service • Transport • Financing • Insurance
Ballast Point Yachts, Inc. is a premier yacht brokerage based in San Diego specializing in used Azimut Yachts. We service the entire Pacific Coast including Canada, Mexico and Hawaii. We are a one-stop-shop for all your Azimut Yacht needs including sales, training, service, transport, financing and insurance to name a few. For over twenty years, we have been bringing our clients superior knowledge and experience in used Azimut Yachts that is unparalleled in the industry. And best of all, whether shopping for Flybridge, Evolution, Carat, Ultimate, Jumbo, S Class or Motor Yachts, our buying services and expertise are available to you free of charge.
Looking to Sell Your Azimut Yacht?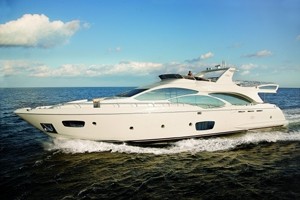 Your Azimut also deserves the best when it comes time to sell. As one of the top performing yacht brokerage firms in San Diego, we know what it takes to successfully sell used Azimut Yachts. Our San Diego office has maintained a concentrated focus on the Azimut brand in particular, including the entire line of Flybridge and Motor Yacht models, resulting in an accumulation of prospective buyers across the State and around the world.
We have an aggressive marketing program consisting of internet, MLS, print media, boat shows and direct mailers. Aside from the United States, we also have a global presence in Europe, Latin America, Asia and Australia. This comprehensive network of boat buyers, brokers and enthusiasts allow us to generate quality leads, higher resale values and to sell our inventory in shorter time periods. And because we don't have the distraction or pressure of selling new boat inventory, we can concentrate our efforts on our first priority – selling your used Azimut boat or yacht.
What's My Used Azimut Yacht Worth?
For your convenience, we offer a free Market Value Assessment which includes:
Oniste Evaluation – We will visit your boat to assess the condition, hours, equipment and all unique features of your boat.
Market Data Evaluation – Using our private MLS and marine book value sources, we can identify competing inventory, recent sales and market trends for similar boats.
Service and Repair Tips – After our visit, our maintenance experts can provide tips for cost efficient service and repair that will help support a higher resale value.
A complete written report will be delivered and reviewed with you by one of our Azimut Yachts Specialists.
Request a free Market Value Assessment today. Call (619) 222-3620 x 1 or Email Us
About Azimut Yachts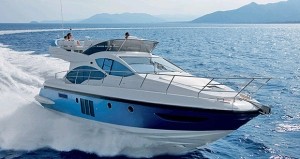 Azimut Yachts prides itself on generations of handcrafted skills and quality craftsmanship. With more than 50 years of quality boat building experience, the company keeps each step of the construction process in-house, ensuring the finest luxury cruising yachts that boast a perfect blend of artisanship and cutting-edge technology. Boat owners and prospective buyers enjoy Azimut boats and yachts because they know that each is intelligently crafted to the highest performance standards known to the industry, without compromise.
Azimut Yachts came about in 1969, when the young university student Paolo Vitelli founded Azimut Srl, and began chartering sailing boats. In 1970 some prestigious yachting brands appointed the company to distribute their boats in Italy. Apart from distribution, it began to design new yachts. In a joint venture with Amerglass, it designed the AZ 43' Bali, a mass-produced fibreglass boat, which was an immediate success. The company gradually expanded its range, focussing on the lower end of the market – with the launch of the AZ 32' Targa in 1977, the "Ford T" of the boat world – and upper end too – (with the memorable d?but of the Azimut 105' Failaka in 1982, the biggest mass-produced yacht in fibreglass at the time).
The acquisition of Benetti and the start of own production. In 1985 Azimut acquired Benetti. This historical brand, based in Viareggio, had been building boats since 1873, and designed the concept of the megayacht.
Azimut was now able construct its own yachts, defining new style and industry standards that would go on to revolutionise the boat building industry, such as: large frameless windows, electric seats, and walnut interiors.
From the late nineties onwards, with the acquisition of new boatyards at Fano, the restructuring of the Benetti boatyards at Viareggio and the construction of a new site at Avigliana, in the province of Turin, Azimut went on to become the foremost builder of yachts and megayachts.
This leadership position was confirmed in subsequent seasons, thanks to numerous business successes and an investment policy which has consolidated Azimut's technological and production capacities over the years, with sites now established in Brazil.
The boats shown here are not offered for sale by Ballast Point Yachts, Inc. We are providing this information in an interest in representing you as a buyer in the purchase of similar vessels.
Call to Speak to an Azimut Yachts Sales Consultant (619) 222-3620 x 1 or Email Us.
---
Disclaimer
"Ballast Point Yachts, Inc. offers the details of these Azimut Yachts in good faith, but are not guaranteed. No warranty is expressed or implied on any vessel listed here. A buyer should instruct his agents, or his surveyors, to investigate such details as the buyer desires validated. This vessel is offered subject to prior sale, price change, or withdrawal without notice. This listing is shared as a courtesy and may be centrally listed with another broker and is not intended to convey representation of any particular vessel."