Used Navigator Yacht Sales • Service • Transport • Financing
For almost two decades, Ballast Point Yachts, Inc. has been helping people buy used Navigator Yachts in San Diego and throughout the west from our San Diego office. We are your one-stop source for buying, selling, transporting and servicing used Navigator yachts. Our Navigator boat buying service is designed to minimize the hassle while we protect your interests. We will expedite the search, acquisition, inspection, titling, insurance and delivery of the Navigator boat model of your choice. Best of all, whether shopping for a Navigator Classic, Pilothouse or Motor Yacht, our buying services and expertise are free to Navigator boat buyers.
Why Buy a Navigator?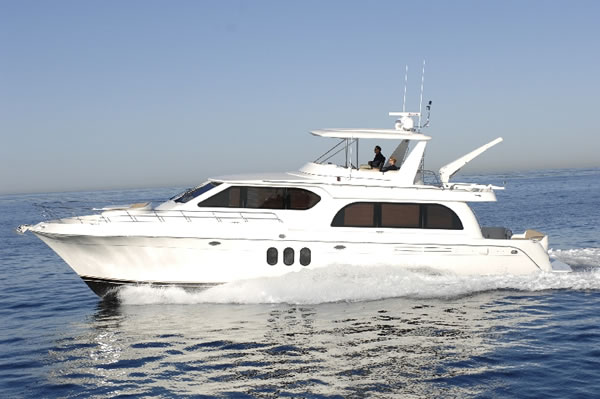 Every Navigator boat is built on a foundation of more than 50 years of quality boat-building experience. Navigator yachts continues to raise both structural standards and customer expectations through our cutting-edge technology and with generations of handcrafted skills that put our manufacturing in a class by itself. At Navigator, they are never satisfied with building anything less than the finest luxury cruising yachts in the world. This is why every step of construction is performed in-house with the perfect blend of artisanship and technology. All so they can closely manage a quality build, one boat at a time. You can be sure that every Navigator Yacht is intelligently crafted to the highest performance and quality standards known to the industry, without compromise. The result is integrity that's painstakingly built into every square inch of every model.
The Navigator Company and History
Californian Yachts started in 1972 by the Marshall Boat Company. One of the company's first successes was the Californian 42 Long-Range Cruiser, which was built for almost 10 years. Unlike other companies that built their boats in Asia, Californian Yachts were built in California. Over the years, the Californian models earned an outstanding reputation in the industry for their construction standards.
Navigator Yachts Inc. was started in 1988 in Perris, California to build a line of pilothouse yachts under the brand name Navigator. Navigator Yachts Inc. started with a single 33-foot express model, and the company rapidly evolved into one of the largest builders of production pilothouse motorboats in the west. The key to Navigator's success became the ability to deliver a well-built product at a very competitive price, as well as its commitment to being recognized as a leader in the industry.
Navigator Yachts Inc. remains a leading manufacturer of luxury motor yachts. The Navigator and Californian boat lines are classically designed with value in mind. Craftsmanship and quality materials are the focus of this American-owned and American-built boat company. The assurance of a top-quality yacht with timeless lines can confidently stand next to any other vessel on the water. Navigator Yachts Inc. has attracted one of the highest numbers of repeat owners.
The Most Popular Navigator Models
Navigator 39' 3900 Classic
Navigator 44' 4400 Classic
Navigator 48' 4800 Classic
Navigator 51' 5100 Pilothouse
Navigator 53' 5300 Pilothouse
Navigator 56' 5600 Classic
Navigator 57' 5700 Rival
Navigator 58' 5800 Motor Yacht
Navigator 51' 5100 Pilothouse
Navigator 62' 6200 Motor Yacht
Call to Speak to a Navigator Boats Sales Consultant (619) 222-3620 x 1 or Email Us
What's My Used Navigator Yacht Worth?
If you have decided to sell your used Navigator boat, the first step is determining the current market value of your boat. Ballast Point Yachts, Inc. offers a free market value assessment based on the year, model, condition and market demand for your used Navigator boat. We will reference our private MLS sources to identify competing inventory, recent sales and market trends to give you a comprehensive market overview. In addition to our market value assessment, we can provide service/repair tips and recommendations that will help support the resale value of your used Navigator boat. Request a free market value assessment for your used Navigator Classic, Pilothouse or Motor Yacht.
Need to Sell a Navigator Yacht? Use the Navigator yacht Experts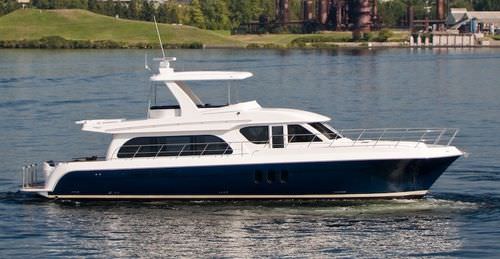 Your Navigator also deserves the best when it comes time to sell. As one of the top performing yacht broker firms in San Diego, we know what it takes to successfully sell a used Navigator yachts. Our San Diego office has maintained a concentrated focus on the Navigator models including Navigator Classic, Pilothouse or Motor Yacht models resulting in an accumulation of prospective buyers across the State and around the world. We have an aggressive marketing program consisting of Internet, MLS, print media, boat shows, direct mail and yacht broker networking. We have a global presence including the USA, Europe, Latin America, Asia and Australia. This approach has enabled us to generate quality leads, higher resale values, and to sell our Navigator yacht inventory in shorter time periods. And because we don't have the distraction or pressure of selling new boat inventory, we can concentrate our efforts on our first priority – selling used Navigator yachts. Contact Ballast Point Yachts, Inc. today and enjoy a hassle free sale of your Navigator Classic, Pilothouse or Motor Yacht.
Call to Speak to a Navigator Boats Sales Consultant (619) 222-3620 x 1 or Email Us
---
Disclaimer
"Ballast Point Yachts, Inc. offers the details of these Navigator Yachts in good faith, but are not guaranteed. No warranty is expressed or implied on any vessel listed here. A buyer should instruct his agents, or his surveyors, to investigate such details as the buyer desires validated. This vessel is offered subject to prior sale, price change, or withdrawal without notice. This listing is shared as a courtesy and may be centrally listed with another broker and is not intended to convey representation of any particular vessel."