Hinckley Yacht Sales & Service • Transport • Financing • Insurance
Ballast Point Yachts, Inc. has been representing Hinckley buyers and sellers in the USA, Canada, Mexico and overseas for over two decades. We offer a convenient, concierge program for sales, service, financing, insurance, shipping and training. We will arrange and manage every aspect of your local or out-of-state purchase including the inspection, sea trail, tile/escrow and shipping in a stress-free manner. Our familiarity with the Hinckley brand including construction, performance, mechanical and electrical will minimize risk and save you time and money. Best of all we do not charge for this service making our resources and expertise a free benefit to buyers.
Please call to discuss your specific criteria and our concierge approach to Hinckley ownership. We can be reached at (619) 222-3620 x 1.
Request Today's Inventory of the Most Popular Hinckley Yachts Models:
29' Hinckley Talaria T29C . The T29C is a center-console yacht is an elegant Bruce King design of shallow draft and compoiste construction, powered by a 440 HP Yanmar diesel engine and waterjet, all controlled by our patented JetStick?. With seating for up to eight, the T29C cruises comfortably, posts a top speed of 33 knots and offers all the amenities for a perfect day on the water.
29' Hinckley Talaria T29R. The T29R is breathtaking both at rest and at play. Waterjet propulsion offers an easy, efficient, and environmentally sound way to move through the water. A comfortable V-Berth forward cabin surrounds you in satin varnished cherry. And the sit-down steering console features a varnished teak dash – the ideal place from which to command over 35 knots of performance.
34' Hinckley Talaria T34. In the smooth acceleration of her next generation twin jets you feel the heart-pumping innovation of Hinckley design and engineering at its very best. This Hinckley flies—up to 32 knots. True, there's an impressive hull structure supporting all this, and fingertip Jetstick control of all of that power and energy. And she goes wherever you please with just 22 inches of draft. Make a date with the 34—you'll need the rods for early morning angling, the tube for an afternoon of thrilling the kids. At sunset, the 34 will entertain you and your friends for a harbor cruise.
36' Hinckley Picnic Boat. Hinckley invented a new class of boat with the introduction of the original Picnic Boat over 15 years ago. Nearly 450 hulls later, Hinckley remains committed to constantly improving this model with every boat we build. This iconic Hinckley features several groundbreaking innovations we welcome you to explore.
38' Hinckley Talaria T38R. The T38R's ingenious convertible top is a unique feature out on the water. The Hinckley T38R Convertible always rises to the occasion with just one touch – shifting effortlessly between sunlight and shade, or coming to your rescue at the first hint of rain.
40' Hinckley Talaria T40. The T40 MKII has all the requisite manners: impeccably crafted, easy-to-manage, powerful, safe and fast. A functional design and a stylistic statement, there is not one element that isn't perfect. The T40 is indeed a perfect yachting experience.
44' Hinckley Talaria T44. Available in a flybridge or express and built for extended range cruising, the T44 extends the performance and handling of a Hinckley jet boat to 44 feet. From harbor cruising with family and friends to passages and excursions lasting an entire season, you'll find that the T44 is a quick, safe and remarkably maneuverable option.
48' Hinckley Talaria. Available in a flybridge or express, the Hinckley 48 was designed to fit with the way owners and guests spend their time on the water. Available in jet propulsion for shoal draft and absolute unfoulability, or choose IPS for lower cost and great tracking in all sea conditions. Performance, control and the hospitable arrangements are what make the Talaria 48 a natural entertainer.
55' Hinckley Talaria. Available in a flybridge or express, this flagship of the Hinckley fleet is the ultimate Hinckley motor yacht representing the pinnacle of the Talaria line. Created in response to demands for a more spacious and powerful yacht, the T55 is designed for gracious and spacious entertaining at sea. With a dual-stateroom layout, it satisfies owners who want an environment that offers the very highest standards of craftsmanship coupled with the most advanced design and technology.
Speak to a Hinckley Yachts Specialist: (619) 222-3620 x 1 or Email Us
What's Your Hinckley Worth?
For your convenience, we offer a free Market Value Assessment which includes:
Oniste Evaluation – We will visit your boat to assess the condition, hours, equipment and all unique features of your boat.
Market Data Evaluation – Using our private MLS and marine book value sources, we can identify competing inventory, recent sales and market trends for similar boats.
Service and Repair Tips – After our visit, our maintenance experts can provide tips for cost efficient service and repair that will help support a higher resale value.
A complete written report will be delivered and reviewed with you by one of our Hinckley Yachts Specialist.
Request a free Market Value Assessment today. Call (619) 222-3620 x 1 or Email Us
Why Buy a Hinckley
Hinckley Yachts has been building the most finely finished, semi-custom, downeast-style yachts for over 85 years. Offered in a wide range of sizes , and in express or flybridge, each model is build with advanced lightweight composite materials to deliver performance that is simply unmatched in this class.
Hinckley Yachts define thoughtful design. A spacious floor plan to entertain for the day, an intimate dinner setting for a few friends in the evening, and just the two of you for the night – this is the Hinckley Yachts. You will find total comfort and luxury as you walk from the swim platform, through the expansive cockpit, and onto to the helm deck or salon. You will appreciate 360 degrees of visibility from every seat along the way. The interior d?cor that includes handcrafted teak, custom counter tops, teak soles and fine upholstery, speaks to the highest standards. Innovative comfort features including power steering, joystick engine controls and customizable seating arrangements will heighten your enjoyment. This truly unique line combines exquisite luxury, spacious living areas and awe-inspiring performance.
Hinckley's current line of yachts includes seven powerboats ranging in length from 29' to 55'. The powerboats are made up of six Talarias and one Picnic Boat. The Talaria fleet was first built in 1989. The present line includes: Talaria 29 C (T 29 C), T 29 R, T34 T 38 R, T 40, T 44, T 44 FB/MY, T 55, and Picnic Boat Mk III. The T 38 R includes a hydraulically operated convertible top. Combining speed and comfort, the T 40 features the speed and handling of Hinckley's smaller boats along with an interior that feels like a much larger boat.
Value Superior quality and finish, limited production, a long list of standard features. This is just the beginning of what ensure the value of your Hinckley, however our customers will tell you that value has little to do with their enjoyment.
Call to Speak to a Hinckley Yachts Sales Consultant (619) 222-3620 x 1 or Email Us
Hinckley Yachts History
Hinckley Yachts, founded in 1928, is a manufacturer of luxury sailing yachts and jet-powered picnic boats based in Southwest Harbor, Maine. The company has developed yacht technologies including JetStick and Dual Guard composite material, and was an early developer of the fiberglass hull. Currently, Hinckley is operating in seven locations across the United States, making it one of the largest manufacturers of custom, luxury yachts in the United States. Hinckley's present yacht line includes seven powerboats ranging in size from 29 to 55 feet and seven sailing vessels offered in lengths from 42 to 70 feet. Similar to yachts built by Sabre Yachts, Ellis Boat Company, and Lyman Morse Boatbuilding, all of Hinckley's yachts are handcrafted and semi-custom built. Semi-custom yachts use a production hull with customization of the interior, deck and rig as required by the purchaser.
Hinckley became the first American boat company to use SCRIMP technology (a method of making composite material with nearly no volatile organic compound emissions) in its yachts, for which Hinckley was awarded the United States Environmental Protection Agency's Environmental Merit Award in 1994. Also in 1994, the company first used its jet propulsion technology.
The JetStick, designed by Control Engineering, Inc., was first used in 1998. The computer-integrated design allows the skipper to control and dock the boat through the use of a joystick. To use the JetStick the driver pushes a button to engage docking mode, this, in turn, disengages the wheel while a computer determines the amount of bow thruster and jet needed to move the boat sideways.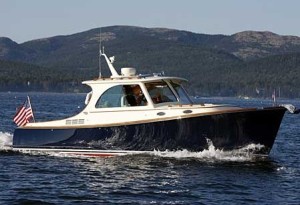 ---
Disclaimer
"Ballast Point Yachts, Inc. offers the details of these Hinckley Yachts in good faith, but are not guaranteed. No warranty is expressed or implied on any vessel listed here. A buyer should instruct his agents, or his surveyors, to investigate such details as the buyer desires validated. This vessel is offered subject to prior sale, price change, or withdrawal without notice. This listing is shared as a courtesy and may be centrally listed with another broker and is not intended to convey representation of any particular vessel."