The recent Statistical Surveys report on boat sales has shown that the recreational boating industry has sold 10.5 percent more boats than the previous year, selling 66,623 boats, up from 60,276 in 2014. The survey included data from 44 states, representing 89 percent of the U.S. market. Most powerboat categories experienced year-over-year growth through the second quarter of this year.
Jet boats saw the most gain in sales, rising 30.8 percent from last year and selling 322 more than the previous year. Sales of wake sport boats, were reported at a 12.1 percent increase. Deck boat sales were up 11.3 percent. Personal watercraft sales rose 23.9 percent, with total sales at 20,087. Pontoon boats experienced sales up 7.9 percent, and bass boat sales were up 5.3 percent.
Sales of larger boats, predominantly those equipped for offshore fishing, are on the rise, which is positive growth after this category experienced a sharp decline during the recession. Sales of new powerboats 40 feet and larger were up 9.4 percent.
Sales of other fiberglass outboard boats, mainly center console boats and sportfishing boats, were up 11.1 percent, and sales of other aluminum outboard boats, such as all-purpose fishing boats, were up 5.8 percent.
With those numbers, Statistical Surveys sales director Ryan Kloppe confirmed predictions that boat sales could raise by 8 percent industry wide for the whole year. Additionally, The National Marine Manufacturers Association is also predicting that new powerboat sales will rise as much as 8 percent in the coming year and anticipates that the industry will continue on that track, bringing sales back to pre-recession levels as soon as next year.
NMMA president Thom Dammrich reported, "a steadily improving economy and flurry of product innovation have boosted new powerboat sales, which is encouraging to see as we head into the winter boat show season, one of the busiest selling periods of the year."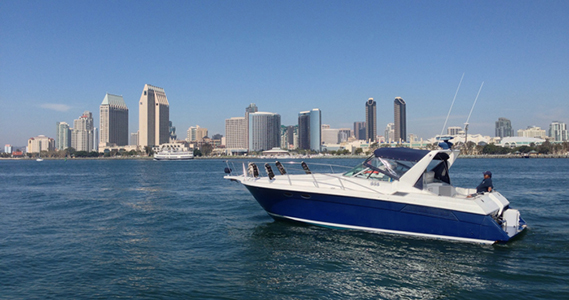 Please contact Ballast Point Yachts, Inc. for all of your boating needs.  We offer yacht sales, service, insurance, financing, transport and more.
Visit: https://www.ballastpointyachts.com
1239 Scott Street, San Diego, California 92106
Tel (619) 222-3620 x 1  •  Cell (619) 977-6006  •  Fax (619) 222-3690