The weather may have cooled off, but that doesn't mean boaters should stay off the water! Here are some tips for cold weather boating, and staying stay and warm on the water.
It may seem self-explanatory, but the phrase "dress for the water, not the weather" most definitely applies. Fabrics such as wool retain heat, even when wet. Also look into an insulated float coat, which will both keep you warm and serve as a life jacket if you end up in the water. Also on that note, water safety officials advise you to tread water to stay warm if you find yourself overboard.
If you happen to live in a place where freezing temperatures occur (not quite here in San Diego), water below the surface stays warmer. For that reason, it's smart for owners of outboards to leave the engine trimmed down at the dock if air temps are expected to drop. A trimmed-up engine holds water, which, if it freezes, can cause severe damage. Additionally, snow won't flow out of the scuppers. Prepare to shovel out your water-stored boat if there is snowfall. Even if it rains go check the boat; an overnight freeze can block drains with frozen water, even if water elsewhere has returned to a liquid state.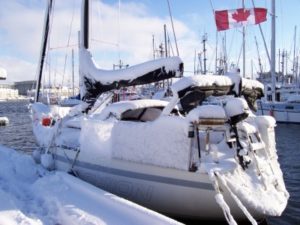 No need to avoid getting out on the water once the temperatures drop, in fact, it might be the best time as crowds thin out and the air is nice and crisp. If you are interested in getting yourself out on the water today, please contact Ballast Point Yachts, Inc. for all of your boating needs. We offer yacht sales, service, insurance, financing, transport and more!
Visit: https://www.ballastpointyachts.com
1239 Scott Street, San Diego, California 92106
Tel (619) 222-3620 x 1  •  Toll-Free (866) 341-0687