Nothing brings more fun in the summer than a summer boat, and according to sales, plenty of Americans agree. With industry sales revving up again in June, double-digit gains have been seen in main powerboat sales and sales industry-wide climbed 10.2 percent.
This rebound continued an unusual year for boat sales as a 20 percent gain was experienced in March and then sales fell nearly flat in the months of April and May. "The summer really popped in June," Statistical Surveys sales director Ryan Kloppe said, noting unsteady May weather in parts of the country that may have deterred potential buyers. "June is one of the highest registration months of the year" for boats, he said, so industry sales are rising at a time when boating has traditionally done well.
Pontoon sales in June climbed 14.6 percent to 5,446, PWC sales rose 14.1 percent to 8,862, sales of ski and wake boats rose 11.6 percent to 962 and jetboat sales gained 15.8 percent to 573. PWC sales totaled nearly 55,000 last year and the category was the only one that topped 50,000. With sales of 26,222 in the early-reporting states through June, the PWC category is on pace to top 50,000 again this year. Industry-wide sales were up by 2,565 from the same month last year and the four top-performing categories accounted for 1,967 of the gains.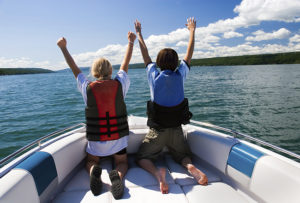 NOW IS THE TIME!
If you would like to join the thousands of Americans maximizing their summer fun with a boat, please contact Ballast Point Yachts, Inc. for all of your boating needs. We offer yacht sales, service, insurance, financing, transport and more!
Visit: https://www.ballastpointyachts.com
1239 Scott Street, San Diego, California 92106
Tel (619) 222-3620 x 1  •  Toll-Free (866) 341-0687