4th of July is almost here and with four locations there are plenty of options for where you can see the fireworks. Plan to get there early. Bring your lawn chairs and friends down to San Diego bay to watch the show. Click here for more transportation and parking information.
Boaters, please observe the 300-yard safety zones around the barges. Please keep a lookout for boats around you.
FIREWORKS START AT 9 PM!
8:00 pm – Watch Live on TV Fox 5 (San Diego) or KTLA 5 (Los Angeles)
9:00 pm – Listen to Musical Simulcast on the Radio THE MIGHTY 1090 AM and MAX FM 105.7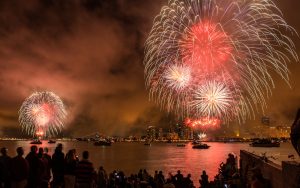 Why not enjoy the fireworks show front row on a brand new boat? Please contact Ballast Point Yachts, Inc. for all of your boating needs. We offer yacht sales, service, insurance, financing, transport and more!
Visit: https://www.ballastpointyachts.com
1239 Scott Street, San Diego, California 92106
Tel (619) 222-3620 x 1  •  Toll-Free (866) 341-0687