New Zodiac Medline & N-Zo RIB Inflatables For Sale
Serving Southern California including San Diego, Newport Beach, Dana Point, Los Angeles, Long Beach, Santa Barbara and the San Francisco Bay areas. Custom Rigging and Dockside Delivery Available. Call or Click For a Customized Quote:
Call (619)222-3620 x 1     REQUEST A QUOTE
Extend Your Cruising with the ZODIAC MEDLINE INFLATABLE BOATS
Comprising three boats, the completely new Medline range has been comprehensively redesigned with one absolute priority in mind: ease of use on land, at anchor and at sea.
The dimensions and the weight of each Medline model have been specifically optimized to give excellent weight-to-power ration, going for moderate engine power while simplifying launching and retrieving maneuvers.
Deck plans ensure exceptional ergonomics and modularity: on-board movement is easy, the sundecks are spacious and easy to set up; the afterdeck feels comfortable and secure. Sunbathing, eating or swimming, it couldn't be easier!
The hull's build quality, the unique comfort of the upholstery, top-of-the-range fittings, easy maintenance of the tubes… Every detail is the fruit of Zodiac's ® years of experience and knowledge of the sea.  
Zodiac Medline Models:
Medline 500
Medline 540
Medline 580
Medline 850
The NEW ZODIAC N-Zo INFLATABLE BOATS | Innovation, Safety and Style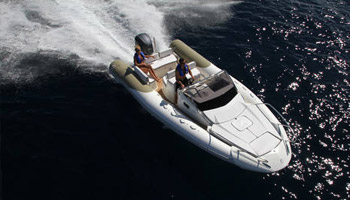 We have endeavored to design boats that are both safe and comfortable. They enjoy the benefits of many Zodiac® innovations. The three new N-ZO ribs enjoy the benefits of innovations incorporated into the hull and deck design. Armed with the success of the N-ZO 700 Cabin, Zodiac® has once again drawn on the talent of the renowned Italian designer, Vittorio Garroni, to design these boats with exclusive lines. These new boats have also been produced in accordance with specific technical specifications to meet the most frequently demanded requirements of recreational sailors.
Safety – The safety provided by a semi-rigid boat is well established. The N-ZO range benefits from the experience of Zodiac® in the design of the hulls and utilizes two innovative features:
New technology used on the Zodiac® shell, equipped with a V-hull, which offers unmatched sea keeping and handling. The generous height of the free-boards, thanks to the size of its buoyancy tube and the special structure of the hull, turn the cabin into a "cocoon" for its passengers.
Pleasure – The new N-ZOs are pleasure boats to be shared with others. Particular attention has been paid to the comfort of passengers, both when sailing and when moored. Three innovative features have been included in the deck design: Best use has been made of the on board space. The deck lay-out has been designed to facilitate safe moving around on-board. A new console, called an "Air Console", more raised, has made it possible to minimize the floor space used and increase your boat's interior space.
The areas for entertaining have been enhanced. All N-ZO models have a spacious aft saloon which can seat a number of people and which offers direct access to the aft bathing platform.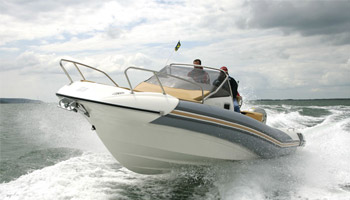 The modular design of the boats has not been overlooked. The N-ZO range is equipped with a new bow sunbathing system "Reverse & Sun" which allows an extensive sundeck to be put in place in a matter of seconds by simply unfolding the structure.
Zodiac N-Zo Models:
N-Zo 600
N-Zo 680
N-Zo 700
N-Zo 760 Cabin
The new N-ZO range therefore comprises boats that are aesthetically pleasing, seaworthy, spacious, and particularly safe.   REQUEST A QUOTE
Why Buy A Zodiac Inflatable Boat? It's the West Coast's #1 Choice:
Reassuring Stability. Zodiac® boats are one of the most stable boats in the water due to their large buoyancy tubes which provide extreme levels of positive buoyancy and a low center of gravity. With this design, Zodiac boats are practically impossible to capsize. This quality, which is essential to safe confident navigating, is especially appreciated by drivers and fishermen.
Practical In Every Way.
The light weight is not the only jewel in a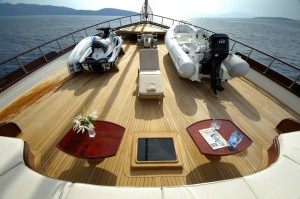 Zodiac® crown. Have you ever tried shutting the car trunk on a traditional boat? Or for that matter storing a traditional boat in a closet or the corner of a garage? The reason is that once deflated and folded the space taken up by a Zodiac™ boat is so much smaller that transporting it and storing it becomes extremely easy.
An Economical Boat. Running a Zodiac® boat requires smaller outboards when compared to conventional boats which provide better fuel economy thus saving you money when on the water. Maintenance is straightforward and simple and their resale value is always great with good residual prices, hence costing less when out of the water. With Zodiac®, boating can be fun, easy and economical.
Almost as Light as Air. Take a look at an inflatable boat. You see fabric, a wooden transom, the fittings… but you forget the air contained in the inflatable keel or in the buoyancy tubes which gives the boat its shape. Looking at it this way, it is hardly surprising that a Zodiac® boat fully inflated can be up to 3 times lighter than a comparable traditional boat making launching or pulling onto the beach so much easier.  
Serving n California including San Diego, Newport Beach, Dana Point, Los Angeles, Long

Beach, Santa Barbara and the San Francisco Bay areas. Custom Rigging and Dockside Delivery Available.  Call or Click For a Customized Quote: .
Call (619)222-3620 x 1      REQUEST A QUOTE