Grand Banks Yachts For Sale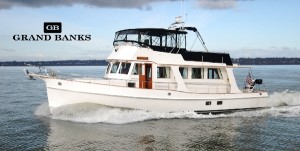 Your source for Grand Banks Yacht Sales including Heritage, Classic, Europa and Aleutian models available through Ballast Point Yachts, Inc. Ballast Point Yachts, Inc. specializes in used Grand Banks yachts and presently offers the best selection of used boats on the market. Find the perfect Grand Banks model for your west coast cruising lifestyle. Serving San Diego, Oceanside, Dana Point, Newport Beach, Long Beach, Santa Barbara, California, Canada and Mexico.
Grand Banks Yacht Sales • Service • Transport • Financing • Insurance
The Grand Banks History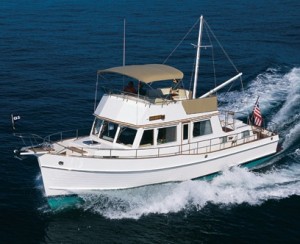 The Grand Banks Yachts brand dates back to 1956 when founder Robert J. Newton and his sons began building heavy sailboats and big motor yachts from their custom boat yard. Inspired by some of the world's top marine architects, they began creating series that not only provided an iconic design, but a quality of construction that was unmatched in the industry.
Over the years, the Grand Banks Yachts became world-renown, with some of the most iconic Series including the Grand banks Heritage Series, first constructed of wood and then fiberglass, followed by the Eastbay Series which many says captured the style and spirit of the classic lobster boat or "Downeast" cruiser while still delivering on high performance. In 2001, the Aleutian Series was launched and its raised pilothouse yachts were praised for the Grand Banks reliability and quality, as well as its new sleek style and sophistication.
Today, boat owners continue to be loyal to the Grand Banks Yachts brand, favoring its seamless combination of state of the art equipment and superior construction and craftsmanship.
Call for more details on these used Grand Banks at (619) 222-3620 x 1 or Email Us
Partner with the Grand Banks Yacht Experts & Sell Your Boat Quickly
When selling a used boat in San Diego, it's important to partner with a brokerage that has experience in selling boats both nationally and internationally. Because our San Diego office has maintained a concentrated focus on the Grand Banks brand, we have created a comprehensive network of local and global boat buyers and enthusiasts. Our marketing campaigns which include everything from MLS, Internet and print media campaigns to direct mailers and presence at boat shows ensures that any prospective buyer is able to see your boat's listing, no matter where they are.
What's My Used Grand Banks Yachts Worth? Get a Free Market Value Appraisal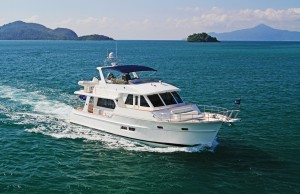 An experienced staff member will carefully assess your boat's market value by referencing comparative sales database available to licensed yacht brokers and marine underwriters. We will also inspect your boat's interior, exterior, engine hours, equipment and overall condition. This process usually takes less than a day and afterwards we'll give you a free written report showing your boat's market value and overall demand. Our goal is to educate our clientele in an easy and convenient manner. Request a free market appraisal from Ballast Point Yachts or Call us directly at (619) 222-3620 x1.
Ballast point Yachts, Inc. is your one-stop source for locating, buying and delivering your next Ocean Alexander yacht.
Call for more details on used Grand Banks Yachts at (619) 222-3620 x 1 or Email Us