Huge Selection of Used Grady White boats
Whether shopping for a Sailfish, Marlin, Release, Canyon, 305 or other express model, Ballast Point Yachts, Inc. is your trusted source for buying used Grady White Boats. Our full-service boat brokerage operates out of sunny San Diego, and proudly serves California, Mexico, Canada and destinations throughout the nation. When looking to buy used Grady Whites, we know you have many options. However, our more than two decades of experience in the industry makes us one of San Diego's preferred brokerages. We have perfected the buying process, providing an unparalleled level of experience and expertise in the industry along with a high level of customer service. Call us at (619) 222-3620 x 1 for more information about how we expedite the search, inspection, titling, insurance and transport of used Grady Whites or click here to fill out our online form and request more information. 
Specializing in the Sales of Used Grady White Boats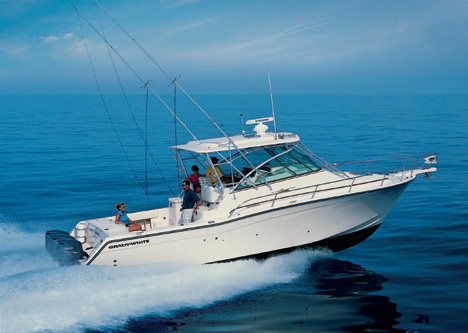 When it comes time to sell your boat, it's important to work with experienced professionals who understand the boating industry and current trends so that your boat doesn't sit on the market for months at a time. Our San Diego office has maintained a concentrated focus on the larger Grady White models including the Sailfish, Marlin, Release and Canyon models, so we know exactly what it takes to move product quickly, at the best possible price for our sellers. Unlike other boat brokerages, we have a national and global approach to selling used Grady Whites, which includes marketing in the US, Europe, Latin America, Asian and Australia. We have also cultivated many relationships with various brokers over the years, which only further support our aggressive marketing in channels such as MLS, print media, boat shows, direct mailing and more. And with no new boat inventory, we can concentrate our efforts on our first priority – selling used Grady White boats.
What's My Used Grady White Yacht Worth?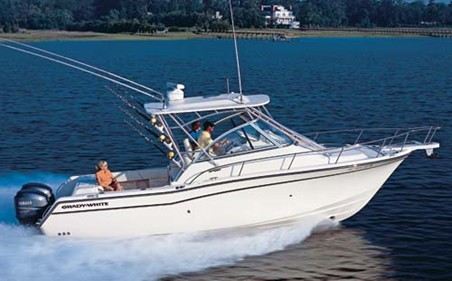 At Ballast Point Yachts, we believe informed sellers are better decision makers, which is why we offer free market value assessments to all of our clients. When you bring us your used Grady White, we will inspect it, looking at the year, model and current condition. We can then take that information and compare it to the current available inventory, using our private MLS sources. Our Grady White consultants will also look at the current market trends to ensure that your assessment is a complete overview of what's going on in the industry. If we believe that there are additional repairs that can support a higher resale value, we can make recommendations and help you determine which repairs, if any, are in line with your goals and timeline for selling. If you want to know what your particular used Grady White boat is worth, click here or call us directly at (619) 222-3620 x 1.
Why Buy a Grady White Boat?
Here are just some of the reasons why Grady White boats are so popular along the West Coast:
Safety – Although basic or level flotation is generally required for boats over 26 feet, Grady White boats have this feature on every model, even the larger models to ensure maximum safety and security for valued clients. And with handholds built in where you reach on all Grady White vessels, you can rest assured that these boats are built and constructed to offer the highest level of safety in boating.
Customer Satisfaction – No other coastal boat builder has been ranked higher in any third party study conducted in the marine industry. With Grady White consistently getting the highest marks in customer satisfaction categories, it's easy to see why boaters consistently pick boats made by this company
The Best Ride in Boating – When you step aboard a Grady White, you can enjoy the best ride in boating thanks to the exclusive C. Raymond Hunt Asociates-Designed Sea V2 hull which makes for a smooth ride that is incomparable.
Affordability – Grady Whites offer better great value, not just for families interested in boating purchases, but for boating enthusiasts looking for quality luxury vessels. Grady White dealers such as Ballast Point Yachts, Inc. can show you some of the lowest prices for Grady White, reinforcing just how easy it is to afford these quality and high-valued boats.
High Resale Value – Just by picking up the used boat classifieds, you can see that well-cared-for Grady White boats command better resale prices than its competitors, thanks in part due to their commitment to exceptional craftsmanship and high reputation in the industry.
Uncompromising Product Quality – The Grady White legacy of crafting exceptional boats was developed over 50 years and continues to offer a standard unlike any other. Grady Whites pay homage to saltwater heritage in a unique way, while promoting a culture of long-term private ownership.
The Most Popular Grady White Models:
For more than five decade, Grady White has set the standard for the boating building industry with its legendary lineup of boats.  As the premier yacht broker of used Grady White Boats in Southern California, we offer larger model line including the Sailfish, Marlin, Release, Canyon, 305 and Express.  Grady White Boats are ideal for a variety of activities including fishing, water sports or just cruising with friends. Explore the most popular models below.
28' Grady White Sailfish Boats
30' Grady White Marlin and 305 Boats
33' Grady White Express and Canyon Boats
36' Grady White Express Boats
Call to speak to a Grady White Boat sales consultant (619) 222-3620 x 1 or click here to email.