Boston Whaler Boats for Sale
Boston Whaler Sales & Service • Transport • Financing • Insurance
Ballast Point Yachts - Your West Coast Source for Used Boston Whaler Boats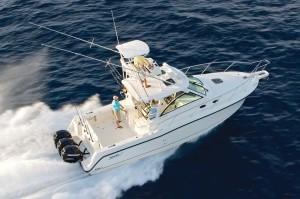 Find the perfect Boston Whaler Express, Walk-around or Center Console model for your west coast boating lifestyle at Ballast Point Yachts. We have been representing Boston Whaler boat buyers and sellers in the USA, Canada, Mexico and overseas for almost two decades offering a convenient, full-service program for sales, service, financing, insurance, transportation, training and more. Our familiarity of today's used Boston Whaler boat inventory, as well as its construction, performance, mechanical and electrical systems will minimize risk and save you time and money. We will manage every aspect of the purchase and/or sale process to insure a low risk, stress-free, convenient experience. Bet of all there is no fee for helping you find and purchase your Boston Whaler boat making our expertise free to buyers. A description of our service is outlined below. Call Ballast Point Yachts to find the perfect Boston Whaler boat today!
Our Featured Inventory
---
Request Today's Inventory of Used Boston Whaler Models For Sale
Select below and Click Request:
---
Boston Whaler Boats Most Popular Models
For more than five decade, Boston Whaler has set the standard for the boating building industry with its legendary lineup of unsinkable boats. As the premier yacht broker of used Boston Whaler Boats in Southern California, we offer larger model line including the Conquest, Outrage and Definace. Boston Whaler Boats are ideal for a variety of activities including fishing, water sports or just cruising with friends. Explore the most popular models below.
Call to Speak to a Boston Whaler Consultant (619) 222-3620 x 1 or Email Us
28' Boston Whaler 285 Conquest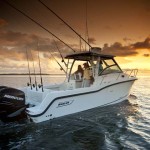 The thoughtfully appointed 285 Conquest offers premium comfort and features for active day cruises, fishing runs and overnighting. The boat's elegant cabin sleeps four with a plush forward V-berth/dinette and a mid-cabin double berth. Three hard-top options and numerous innovations make the 285 Conquest the perfect boat for seizing the moment.
30' Boston Whaler 305 Conquest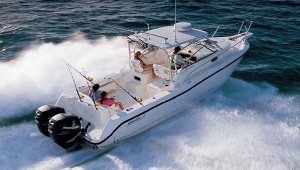 The 305 Conquest is a fishing and pleasure boat that has it all: enhanced utility, ultimate convenience and stylish comfort. A full front glass windshield provide a clear, unobstructed view from the helm, while an insulated 30-gallon livewell/cooler, increased bait prep storage, and in-deck fishboxes ensure the angler has everything he needs to get on the fish. Master the offshore with the fishability of the 305 Conquest.
34' Boston Whaler 345 Conquest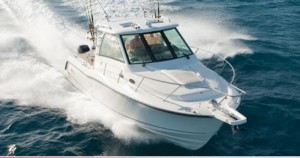 Whether you like sportfishing, entertaining or relaxing on the weekends, this Boston Whaler has the capabilities amenities for it all. Innovations abound, from the integrated windshield-hardtop system to the cockpit prep and entertainment center with optional electric grill. Step onboard the legend and pursue your San Diego and Newport Beach boating passion. Choose the 345 Conquest.
32' Boston Whaler 320 Outrage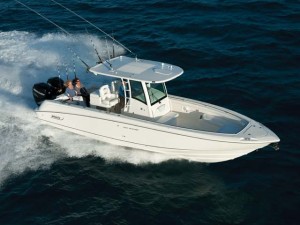 The 320 Outrage, with wide side decks and an huge cockpit, is both an fish-fighting boat and great entertainer. The tournament style fishing features include a leaning post with livewell, in-floor fishboxes, under-gunnel rod rack storage and an access hatch trhough the hardtop for use with an option tower.  The enclosed head with shower will provide comfort on longer trips.  Large fuel capacity and freshwater supply will also added to your offshore adventure.  The large bench seating forward offer storage and a place to stretch out and catch some rays. Fish or cruise aboard the 320 Outrage.
37' Boston Whaler 370 Outrage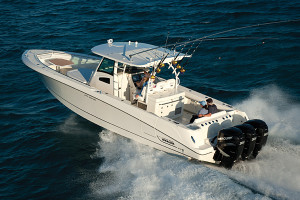 The award winning 370 Outrage will amaze. The devoted angler will find the livewell, tackle storage, refrigerator/freezer, sink and grill to fit every need. A dive door offers superior water access. The large cabin offers unexpected luxury with its double berth, entertainment center, coffeemaker, storage locker, fridge, microwave, and shower with vanity. Nothing compares to the 370 Outrage.
Call to Speak to a Boston Whaler Consultant (619) 222-3620 x 1 or Email Us
Thinking of Selling Your Boston Whaler?
Ballast Point Yachts, Inc. takes pride in the representation of our premium brand inventory. Our sales staff supports each listing with an aggressive marketing plan, product knowledge and almost two decades of experience in the yacht brokerage industry. As one of the top performing brokerage firms in the nation, we know what it takes to successfully sell a Boston Whaler Boats. Our vast media exposure allows us to generate more leads, attain higher resale values and sell more boats in shorter time periods. We have maintained a concentrated focus on the most popular west coast brands accumulating prospective buyers across the nation and the world. Unlike the average boat dealer, we do not have the distraction or pressure of selling new Boston Whaler inventory allowing us to concentrate our efforts on our first priority – selling used Boston Whaler yachts. Here are more reasons to use Ballast Point Yachts, Inc. when selling your Boston Whaler boat:
We set the standard for honesty and integrity.
We offer personalized, concierge service and support.
We make selling a boat fast & easy.
We are a convenient, one-stop-shop offering sales, financing, insurance, title, transport and service through our San Diego location.
We minimize risk as a result of our superior product knowledge.
We are committed to the highest level of customer service. Our ability to understand client expectations and communicate sets us apart from our competition. Clients across the nation and around the world have trusted us with facilitating their yacht buying and selling earning us an unquestioned reputation.
Call to Speak to a Boston Whaler Consultant (619) 222-3620 x 1 or Email Us