Great Selection of Used Boston Whaler Boats For Sale
Photo
Make
Length
Model
Year
Inventory
Now Available

Boston Whaler
27'
Boston Whaler 270 Outrage (Click Here)

Exclusive

2007
1
Request More Information

Boston Whaler
30
30' Boston Whaler 305 Conquest 2006 (Click Here)

Exclusive

2006
1
Request More Information

Boston Whaler
30'
Boston Whaler 305 Conquest (Click Here)

Exclusive

2007
1
Request More Information

Boston Whaler
32'
Boston Whaler 320 Outrage w/ Trailer (Click Here)

Exclusive

2005
1
Request More Information

Boston Whaler
34'
Boston Whaler 345 Conquest (Click Here)

Exclusive

2009
1
Request More Information

Boston Whaler
28'
Conquest 285 & Outrage 280
2006 or newer
Inquire
Request More Information

Boston Whaler
30' - 31'
Conquest 305 & Conquest 315
2004 or newer
Inquire
Request More Information

Boston Whaler
32'
Outrage 320
2005 or newer
Inquire
Request More Information

Boston Whaler
34'
Conquest 345
2008 or newer
Inquire
Request More Information

Boston Whaler
37'
Outrage 370
2010 or newer
Inquire
Request More Information
Serving San Diego, California and the West Coast!
For almost two decades, Ballast Point Yachts, Inc. has been helping people buy used Boston Whaler boats in San Diego and throughout the west coast. We are your one-stop source for buying, selling, transporting and servicing used Boston Whaler boat. Our Boston Whaler Boat Buying service is designed to minimize the hassle while we protect your interests. We will expedite the search, acquisition, inspection, titling, insurance and delivery of the Boston Whaler model of your choice from our San Diego office. Best of all, our buying services and expertise are free to Boston Whaler buyers.
Call or Click to Speak to a Boston Whaler Sales Consultant (619) 222-3620 x 1    Email Us
Need to Sell a Boston Whaler? Use the Boston Whaler Experts.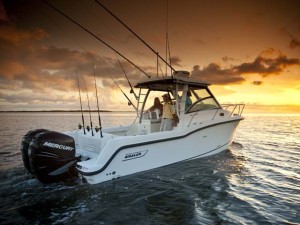 As one of the top performing yacht brokerage firms in San Diego, we know what it takes to successfully sell a used Boston Whaler Conquest, Outrage and Defiance boat.   Our San Diego office has maintained a concentrated focus on the Boston Whaler brand resulting in an accumulation of prospective buyers across the State and around the world.  We have an aggressive marketing program consisting of Internet, MLS, print media, boat shows, direct mail and yacht broker networking.  We have a global presence including the USA, Europe, Latin America, Asia and Australia. This approach has enabled us to generate quality leads, higher resale values, and to sell our Boston Whaler inventory in shorter time periods.  And because we don't have the distraction or pressure of selling new boat inventory, we can concentrate our efforts on our first priority – selling used Boston Whalers Yachts.  Contact Ballast Point Yachts, Inc. today and enjoy a hassle free sale of your Boston Whaler Conquest, Outrage or Defiance.
Call or Click to Speak to a Boston Whaler Sales Consultant (619) 222-3620 x 1    Email Us
What's My Used Boston Whaler Worth?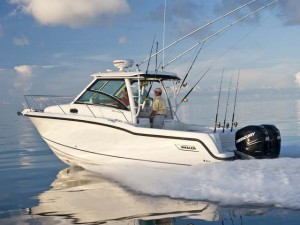 If you have decided to sell your used Boston Whaler, the first step is determining the current market value of your boat.   Ballast Point Yachts, Inc. offers a free market value assessment based on the year, model, condition and market demand for your used Boston Whaler.  We will reference our private MLS sources to identify competing inventory, recent sales and market trends to give you a comprehensive market overview.   In addition to our market value assessment, we can provide service/repair tips and recommendations that will help support the resale value of your used Boston Whaler.  Click below to request a free market value assessment for your used Boston Whaler.
Call or Click to Speak to a Boston Whaler Sales Consultant (619) 222-3620 x 1    Email Us
Why Boston Whaler?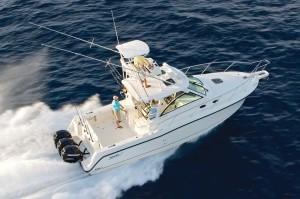 What makes Boston Whaler boats unique? The factory's commitment to providing the safest, easiest to own, most exciting boats on the water. It started in 1958 with the founder, Richard Fisher, who crafted the first twin-sponson 13-foot Whaler and then did his best to destroy it by driving up rocky rapids and cutting it in half.  It was unsinkable, just like all Boston Whaler models today. Boston Whaler continues to concept and build peerless designs that meet the diverse and changing needs of the boaters around the world. Only Boston Whaler can bring you an unsinkable, legendary, innovative boat that is engineered for a lifetime of enjoyment and dependability. Only Boston Whaler can bring you an Unsinkable Legend.
The Most Popular Boston Whaler Models: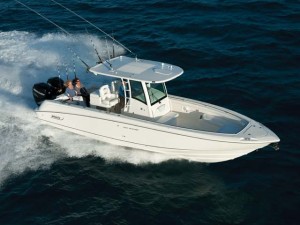 For more than five decade, Boston Whaler has set the standard for the boating building industry with its legendary lineup of unsinkable boats.  Perfect for fishing, cruising and a variety of water sports, Boston Whaler boats deliver ultimate comfort, safety and stability.  As the premier yacht broker for used Boston Whaler boats on the west coast, we offer a large selection of the Conquest, Outrage and Definace models.  Boston Whaler boats are ideal for a variety of activities including fishing, water sports or just cruising with friends. Explore the most popular models below.
28' Boston Whaler 285 Conquest and Outrage Boats.  The thoughtfully appointed 285 Conquest offers premium comfort and features for active day cruises, fishing runs and overnighting. The boat's elegant cabin sleeps four with a plush forward V-berth/dinette and a mid-cabin double berth. Three hard-top options and numerous innovations make the 285 Conquest the perfect boat for seizing the moment.
30' and 31' Boston Whaler Conquest Boats.  The 305 Conquest is a fishing and pleasure boat that has it all: enhanced utility, ultimate convenience and stylish comfort. A full front glass windshield provide a clear, unobstructed view from the helm, while an insulated 30-gallon livewell/cooler, increased bait prep storage, and in-deck fishboxes ensure the angler has everything he needs to get on the fish. Master the offshore with the fishability of the 305 Conquest.
34' Boston Whaler 345 Conquest Boats.Whether you like sportfishing, entertaining or relaxing on the weekends, this Boston Whaler has the capabilities amenities for it all. Innovations abound, from the integrated windshield-hardtop system  to the cockpit prep and entertainment center with optional electric grill. Step onboard the legend and pursue your San Diego and Newport Beach boating passion. Choose the 345 Conquest.
32' Boston Whaler 320 Outrage Boats.The 320 Outrage, with wide side decks and an huge cockpit, is both an fish-fighting boat and great entertainer. The tournament style fishing features include a leaning post with livewell, in-floor fishboxes and under-gunnel rod rack storage. Fish or cruise aboard the 320 Outrage.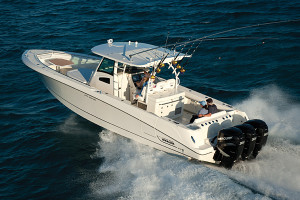 37' Boston Whaler 370 Outrage Boats.The award winning 370 Outrage will amaze. The devoted angler will find the livewell, tackle storage, refrigerator/freezer, sink and grill to fit every need. A dive door offers superior water access. The large cabin offers unexpected luxury  with its double berth,  entertainment center, coffeemaker, storage locker, fridge, microwave, and shower with vanity.  Nothing compares to the 370 Outrage.
Call or Click to Speak to a Boston Whaler Sales Consultant (619) 222-3620 x 1    Email Us